Today's post comes to use from our friend Jon Gelman from New Jersey.
United States Supreme Court has taken a giant leap forward to facilitate the Federalization of the entire nation's workers' compensation system. By it's recent decision, upholding the mandate for insurance care under the Affordable Health Care for America Act (ACA) 2009, it has set the precedent to federalize the nation's fragmented and chaotic workers' compensation medical delivery system.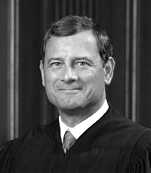 John G. Roberts Jr.,
Chief Justice US Supreme Court
Validating Mechanism
In a 5 to 4 ruling, Chief Justice Roberts validated the individual mandate as a permissible exercise of congressional power under the Taxing Clause of the US Constitution. Under 26 U.S.C. Section 5000A. The law requires that: (a) an individual must maintain minimum essential coverage for each month beginning after 2012; and (b) if there is a failure to maintain minimum essential coverage, a "penalty" is imposed "on the taxpayer" of $695 per year or 2.5% of family income, whichever is greater. The penalty "shall be assessed and collected in the same manner as taxes."
The Chief Justice, writing for himself, stated, "Every reasonable construction must be resorted to in order to save a statute from unconstitutionality." If it is "fairly possible" to interpret the statute as merely imposing a tax on those who've failed to purchase insurance. Writing for the majority, the Chief Justice stated, that the penalty is not a tax for anti-injunction act purposes. The Court, he wrote, needs to look beyond the label when assessing the constitutionality. For constitutional purposes Justice Roberts reasoned that the penalty may be considered as a tax when: it is not so high that there is no choice; and it is not limited to willful violations; and the penalty is collected by the IRS through normal means.
Constitution of the
United States
The Court indicated that the assessment is not really a "penalty." "Taxes that seek to influence conduct are nothing new," the Chief Justice wrote. He reasoned for the Court that Continue reading »